Zebulon kosted /Funeral Inconcientemente Natural split
COSMO CREATION OF THE LOST SOULS
Distribuido bajo el sello de kapustin yar records llego a mis manos uno de mis discos más preciados el "Cosmo creation of the lost souls."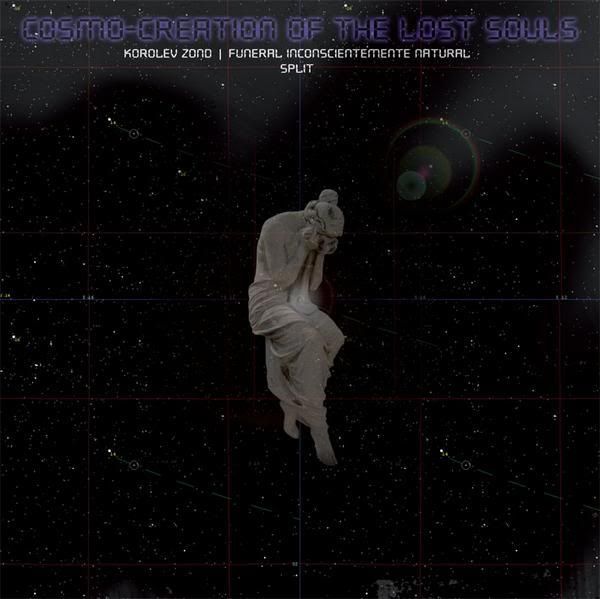 En cuanto a lo que se puede decir del diseño, es excelente su portada nos muestra una de esas almas perdidas en un infinito espacio, y en el arte interno y el back consiste en una nebulosa y lo que parece ser una supernova esto dividido en cuadrantes, el hecho que tenga un grafico impreso en el CD a mano que lleve el titulo lo hace mas cálido y todo con una tendencia a negro y morado que connota el luto, lo místico y lo espiritual del album.
Kololev Zond
M- 71 NO. 171
Comienza con los paisajes futuristas de Korolev zond, como en sus trabajos pasados su temática está relacionada muy cercanamente a la ciencia ficción y temas especiales, su único y largo track llamado M- 71 NO. 171 es una melodía de zumbidos de maquinas y ruidos de cortes de metal y dobleces de extrañas materias, como trabajando en la creación pura, la creación de almas perdidas, como sucede en los trabajos de Korolev Zond ellos intentan que sea el espectador mismo quien decida lo que está oyendo, con sus rítmicos sonidos de las turbinas y su lenguaje de zumbido en esta coreografía de sonidos monótona queda dividida en dos partes cerca del minuto 15 se colapsan y comienza la otra fase del ciclo de creación, ahora se estrujan se aplastan, se alargan, se invierten, se deforman, implosionan, como si fuesen elementos independientes, en la complejidad y variantes de sonidos que van convergiendo a través del desarrollo del track se encuentra una creación muy completa y al mismo tiempo repetitiva pues es como lo dije antes es un ciclo, aunque también esto puede ser relacionado con un viaje astral, mundos oníricos, levedad y gravedad o voces de las galaxias, pero esta vez korolev zond está transmitiendo la creación de almas perdidas, esto es el eje que le da el sentido a su música, es un concepto un tanto complejo de entender pero de la misma forma sublime y bello, para aquellos que disfrutan de la música drone y del noise este track será una delicia para sus oídos, pues para mi korolev zond es el mejor creador de atmosferas espaciales y en este disco hiso uno de sus mejores trabajos.
Funeral Inconscientemente Natural
CONVERSATION WITH THE ASTEROID 1181 (LILITH)
Después del gran trabajo de Korolev Zond entra con una de sus canciones pasadas, pero una clásica "Conversation with the Asteroid 1181 (Lilith)" esto es un poema sin palabras donde una única tarnsmision repetitiva nos lleva a la platica con un asteroide un asteroide como si se tratara de telequinesis donde entra la guitarra que llora de sammael y la lenta batería de F.I.N. Cabe destacar que es la primera versión del track, ya que la que oímos primero en Layil, era la segunda versión y los cambios se pueden ver en el teclado de fondo y los ritmos de la batería.
posmodENrD???
como su titulo lo indica este track es una referencia una mera alusión al final del posmoderno cuando la vida del que no goza si n vive llega a su fin un track sueva y melancólico que de apoco se eleva, como un alma perdida en el espacio cual estrella extraviada en el cielo eterno, F.I.N. muestra un minimalismo fantástico en composición, es sutil al tiempo de usar sus elementos, ninguno entra sin que otro lo haya anunciado antes así la guitarra entra a la perfección a acompañar las atmosferas y llegar a su clímax de ahí empieza bajar todo a detenerse el respiro de lo posmoderno y la guitarra llora en su aguda agonía hasta que todo acaba hermoso como empezó.
SUICIDAL PROPHET
Que se tendría que decir??? un profeta antes de cometer el suicidio, que visión lo haría abandonar la vida???, este es el tema de éste track. El acto de venganza universal para muchos es el cambio de una vida muerta por una muerte viva, pero para un profeta esto es totalmente diferente, así es como en este misterioso track el profeta exclama en sus palabras sobre el horrendo mundo en el que le toco nacer, rodeado de sombras que aparentan ser personas, pero mejor, las letras de F.I.N. son cortas pero muy concisas como un poema escrito solo en las partes más importantes, aquí la muestra de lo que escribió.
Suididal Prophet (lyrics): Viviendo un triste sueño – Sofocado por un sol gris… – Vida gris, alrededor de grises almas… – Miseria en gris. — Él corre por los pasos de la muerte y la soledad, – abandonado a la influencia de una fría ciudad… – …y una solitaria vida por recorrer. — Dónde está tu dios??? -pregunta la gente-. – Hacia dónde vas??? -les responde-. – todo en silencio. — …Frustrado y con un asqueroso rostro corre! – corre, corre y corre, buscando su destino… – buscando su salvación… ———- ¿Dónde esta tu dios ahora? – Cansado estan tus ojos y hambriento tu cuerpo! – ¿Dónde esta esa belleza que profesas? – dónde está la vida que amas? — ¿Porqué corres buscando la luz en un mundo apestado de ella? – vayas donde vayas, siempre estarás como en casa! – Con la soledad y el olvido a cuestas… – …Con el engaño y la frustración en tus caminos. — Llora alma iluminada por un designio arcano! – Llora y mira la muerte de tus semillas! – ¿Porqué Buscas tu destino en el sueño de la muerte?
IN THE MIST (alice)
Por lo que se F.I.N. a afrontado momentos muy difíciles como dúo y la perdida de dos seres queridos, "In The Mist (Alice)" es un track dedicado a uno de esos seres, un maestro y guía, y sin duda es un track lleno de sentimientos encontrados. No puedo decir más, ustedes juzguen la complejidad de sentimientos que se contienen en este track
In The Mist (Lyrics): Camino en la bruma de la más triste noche de mi vida…- Buscando un signo… un alma… un amigo que me apoye… — No es fácil caminar aquí… – No es fácil vivir aquí… – Mi amiga… – Todo es soledad aquí… – Sin ti yo no sé cómo viviré… – Cómo aprenderé… – Cómo seguiré mi camino… ———- La lágrima que caen en los ojos de la madre tierra. – La sangre que no pude ver… – ¡¡¡Ese miserable animal no merece vivir!!! – ¡¡¡Quiero matarlo!!! – ¡¡¡Quiero matarte!!! – Los maestros me dijeron en un sueño que era tu destino – …y yo no puedo hacer algo. – Sigo caminando aquí – …En este solitario camino, bajo la lluvia – Lamento lo sucedido, que descances en paz.
Un track que despide a un ser querido, con impotencia el protagonista dice estas palabras las ultimas a su amigo, este en lo personal es mi track favorito de F.I.N. y sin duda el mas indicado para cerrar el cosmo cration of the lost souls
Gracias K.Z. & F.I.N. por esta magnifica obra maestra.
Herboros
F.I.N.
www.myspace.com/doomfin
http://www.fin.funerart.org
KOROLEV ZOND
www.myspace.com/korolevzond
label & ditro
www.myspace.com/kapustinyarrecords
http://www.artektronic.nu/kapustinyar.swf
www.myspace.com/funerarttheexperimentalultramodernlabel
www.funerart.org/store.html
TRACK LIST:
1-M- 71 NO. 171 – 24:21
2-CONVERSATION WITH THE ASTEROID 1181 10:39
3- POSMOSDeRnd??? 11:38min
4- SUICIDAL PROPHET 11:07
5- IN THE MIST (alice) 6:18min
————————-
Zebulon kosted /Funeral Inconcientemente Natural split
COSMO CREATION OF THE LOST SOULS
Distributed under Kapustin Yar Records Label, Arrive to my hands one of my more valued discs, "Cosmo-Creation of the Lost Souls". As for what it is possible to say of the design, it's excellent his front-art that shows us one of these losr souls in an infinite space, and in the internal art and the back it consists of the nebulous and what seems to be a supernova this divided in quadrants, the fact that has a graph printed in the CD to hand that takes the title does more hotly and everything with a trend to black and purple that connotes the mourning, the mystical thing and the spiritual of the album.
Kololev Zond
M- 71 NO. 171
It begins with the futurist landscapes of Korolev Zond, since in his past works his subject matter is related very close to the science fiction and special topics, his only one and length track so called M – 71 NOT. 171 it is a melody of buzzes of machines and noises of metal cuts and insincerity of strange matters, since being employed at the pure creation, the creation of lost souls, since it happens in Korolev Zond's works they try that he is the spectator himself who decides what hears, with his rhythmic sounds of the turbines and his language of buzz in this monotonous choreography of sounds she remains divided in two parts near the minute 15 they collapse and it begins another phase of the cycle of creation, Now they rack brains flatten, get longer, are invested, are deformed, implosioned, as if they were independent elements, in the complexity and sound variants that are converging across the development of the track one finds a very complete creation and at the same time repetitive since it is like I it said before it is a cycle, though also this can be related to an astral trip, oneiric worlds, levity and gravity or voices of the galaxies, but this time korolev zond is transmitting the creation of lost souls, this is the axis that gives him the sense to his music, is a rather complex concept of dealing but of the same sublime form and beautiful, for those who enjoy the music drone and of the noise this track will be a delight for his ears, Since for my korolev zond he is the best creator of spatial atmospheres and on this disc hiso one of his better works.
Funeral Inconscientemente Natural
CONVERSATION WITH THE ASTEROID 1181 (LILITH)
After the great work of korolev zond enters with one of his past songs, but the classic one "Conversation with the Asteroid 1181 (Lilith)" this is a poem without words where the unique repetitive tarnsmision takes to us to the conversation with an asteroid an asteroid as if it was treating itself of telequinesis where it enters the guitar that cries of sammael and F.I.N's slow battery. It is necessary to emphasize that it is the first version of the track, since the one that we hear firstly in Layil, was the second version and the changes can be seen in the keyboard of found and the paces of the battery.
posmodENrD???
As his title this track indicates it is a reference a mere allusion at the end of the postmodern one when the life that he does not enjoy if n lives comes to his end a track sueva and melancholy that of I reduce rises, as a soul lost in the space major which misled in the eternal sky, F.I.N. proves to be a fantastic minimalismo in composition, is fine to the time to use his elements, none enters without other one it has announced before this way the guitar begins to the perfection to accompany the atmospheres and to come to his climax of there it begins to lower everything to the respite of the postmodern thing be stopping and the guitar cries in his sharp agony until everything finishes beautifully since it began.
SUICIDAL PROPHET
That would have to be said??? A prophet before committing the suicide, that vision would make it left the life???, this one is the topic of this one track. The act of universal revenge for many is the change of a life died by an alive death, but for a prophet this is totally different, like that it's since in this mysterious track the prophet exclaims in his words on the horrible world in which he has born, surrounded with shades that show off to be people, but better, F.I.N.'s letters are short but very concise as a written alone poem in the most important parts, here the sample of what he wrote.
Suididal Prophet (Lyric): Living through a sad dream – suffocated by the gray Sun…. – Gray life, arround gray souls – …misery in grey. — He runs for the steps of the death and solitude, – left the influence of a cold city… – …And a solitary life to walk. — where your god??? -the people ask-. – towards where you go??? -he answers them-. – quite silently. —— …Frustrated and with one ugly face run! – He runs, runs and runs, looking for his destiny… – Looking for his salvation…———-Where your God now? – Tired you'r eyes and your hungry body! – where this beauty that you teaching? – Where this life that you love? — Why you runing to find the light in a stinking world of it? – Where you go, forever will be like in house! – With the loneliness and the oblivion piggyback… – With deception and frustration in your ways. — Weep illuminated soul by an arcane plan! – Weep and look at the death of your seeds! – Why looking for your destiny in the dream of the death?
IN THE MIST (alice)
For what F.I.N. to confronted very difficult moments like duo and the loss of two dear beings, "In The Mist (Alice)" is a track dedicated to one of these beings, a teacher and guide, and undoubtedly it's a track full of opposing feelings. I cannot say any more, you judge the complexity of feelings that control themselves in this track
In The Mist (Alice) – (Lyric): I walk in the mist of the most sad night of my life… – I search for one sign… one soul… one friend that support me… — Is not easy walk here… is not easy living here… – My friend… – MY Friend!!! – My Master… — All is solitude here – without you I don't know how I will life – how I will learn, how I will following my path. ———- The tear that fallen in the eyes of the mother earth, – The blood that I cannot see… – This lousy animal not deserved to life!!! – I want kill you now!!! – Kill you, kill You!!! KILL YOU!!! – …KILL YOU!!! K I L L Y O U ! ! ! — The master's said me in a dream that it was be your destiny – …And in it I cannot make anything. – I following walking in this lonely path, under the rain – I lament that happened, Rest In Peace.
A track who dismisses a dear being, with impotence the protagonist says these words you finalize his friend, this one in the personal thing is my F.I.N.'s favorite track and undoubtedly the mas indicated to close the cosmo cration of the lost souls
Gracias K.Z. & F.I.N. por esta magnifica obra maestra.
Herboros
F.I.N.
www.myspace.com/doomfin
http://www.fin.funerart.org
KOROLEV ZOND
www.myspace.com/korolevzond
label & ditro
www.myspace.com/kapustinyarrecords
http://www.artektronic.nu/kapustinyar.swf
www.myspace.com/funerarttheexperimentalultramodernlabel
www.funerart.org/store.html
TRACK LIST:
1-M- 71 NO. 171 – 24:21
2-CONVERSATION WITH THE ASTEROID 1181 10:39
3- POSMOSDeRnd??? 11:38min
4- SUICIDAL PROPHET 11:07
5- IN THE MIST (alice) 6:18min
http://www.penurium.com/wp-content/uploads/2017/04/logo_penurium.png
0
0
herboros
http://www.penurium.com/wp-content/uploads/2017/04/logo_penurium.png
herboros
2009-03-05 21:02:21
2009-03-13 20:17:04
Cosmo Creation Of The Lost Souls. F.I.N./Korolev Zond