Dante Augustus Scarlatti es una one man band de BLOOMINGTON, Indiana- Estados Unidos, Su álbum "Demises of the Dynamic Microphone [in Monodelity]" distribuido por Auris Apothecary y grabado en 04-05-09 es una muestra de Avant garde -Doom en baja fidelidad grabado así intencionalmente, como el mismo lo explica.
"Intentionally low-fidelity avant-garde doom soundtrack for mournful situations & meditations, crafted from improvisational recordings of vintage auditory devices in varying states of decay blending with dreariness in the vein of slowed down classical guitar vinyl records"
La caja es reciclada de un reel de grabación original, pintada de negro y serigrafiada en plateado con imágenes muy oscuras referentes a la muerte, y contiene dos cartas mecanografiadas, una tiene insertada la fotografía de la caja antes de ser sacrificada para crear el álbum, y la otra explica un poco sobre la mono fidelidad, y recomendaciones para escuchar el álbum, más un parche de tela negra con la imagen del Auris Apothecary impresa en negro brillante, y un sticker blanco serigrafiado en negro con la misma imagen, mas el sobre negro cerrado con un sello de cruz de cera plateada que contiene un Pro vynil Cd. Todo este arte Handmade es impresionante, y le da a todo un aspecto muy oscuro pero igualmente elegante, la combinación de colores negros y plateados mas las texturas usadas y los papeles porosos hacen de esto todo un trabajo artesana
l.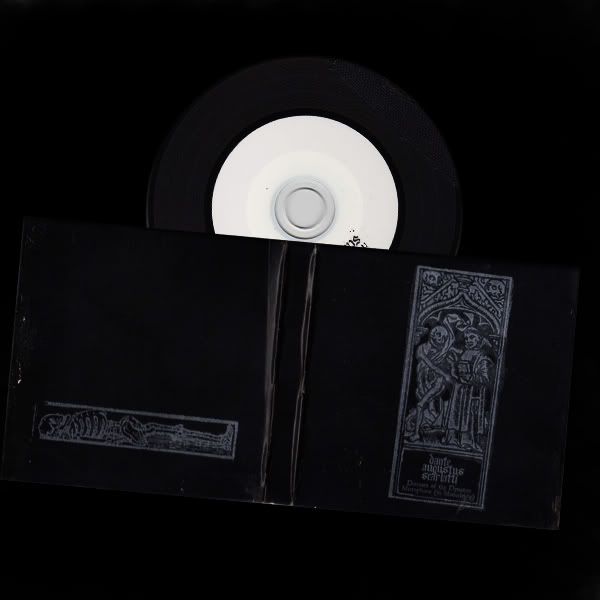 "]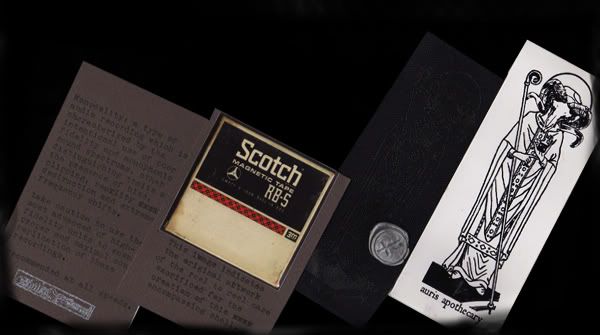 En cuanto a la música DAS uso los siguiente
"reel to reel machines.
vintage turntables.
60's & 70's organs.
cassette decks/recorders.
countless effects pedals.
hand-crafted noise-boxes.
vintage keyboards/synths.
1970's lawsuit SG.
70's mono microphones.
vintage high-wattage amps"
Para crear un sonido muy minimalista es cruda, oscura, depresiva y nostálgica nos llevara profundo hasta lo que verdaderamente somos y nos hará reflexionar profundamente, tracks como Recitations of the Reel Rhythm in a Stern Seasonal Stereophonic Headphone Set encierran vagos sonidos del ambiente en el cual fue grabado, y otros como Vinyl Etchings Containing Hymns of the Sacred Greek Orthodox Funeral muestran sonidos sintéticos y otras muestras interesantes de sonido que no puedo identificar, en algunos hasta se lograra escuchar como rechina la silla de madera donde DAS estuvo sentado, los fallos de los cables y la respiración, detalles que hacen una relación más directa con el oyente, sin temor a equivocarme afirmo que Demises of the Dynamic Microphone [in Monodelity] es un álbum excepcional.
herboros
Myspace
http://www.myspace.com/danteaugustusscarlatti
http://www.myspace.com/aurisapothecary
Track List
1. Prologue
2. Re:verses of Decay in 1939's Kodascope Mass for Arachnid
3. Transcriptions of Subterranean Meteorological Phenomena in the Galaxie Deluxe
4. Vinyl Etchings Containing Hymns of the Sacred Greek Orthodox Funeral
5. Electro-Syncing Static Keys in the City of Dead Sound
6. Recitations of the Reel Rhythm in a Stern Seasonal Stereophonic Headphone Set
7. Epilogue