Echoes in eternity
UN album split entre deathrow & Moloch
dos bandas de las llamadas one man band unen su oscuridad para este split echoes in eternity, distribuido por The kether crow prod. 2008 este cd fue limitado a 160 piezas, de la cual me llego la numero 16, desde que uno ve el disco se da cuenta que es ambiental, por el color y sus imagenes, de paisajes desolados, bosques oscuros, y por dentro una foto de un rio y las images de de thorns y de sergy.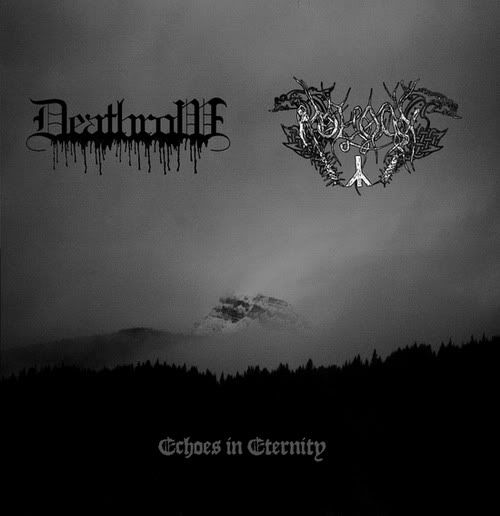 Nigredo I
Un track oscuro una melodia melancolica y un sentimiento ondo nigredo 1 nos transmite un abismo inmenso, de sonidos graves, muy a lo dark ambient, y un violin repetitivo que la da su toque de horror al track.
Nigredo II
es la segunda pieza de deathrow que continua igual de oscura que la anterior pero esta tiene un aire diferente con un ritmo parecido a esas viejas canciones de fiesta que se tocaban con clavicordio.
Il buio MMVlll
Un track siniestro en su totalidad muy oscuro  y lento con violines agudos y y un sonido bajo en el fondo es lo que hace casi la total composición de este track
Vergessene Weisheit meiner grauen Gefuhle
Debo decir que es moloch quien se lleva el Split, con su unico track como es costumbre en los trabajo de Moloch es un track largo y experimental, comienza con los tenebrosos alaridos y gritos que pronto dominan al oyente y los violines pesados de fondo, y poco después horrendos y graves golpes como a una gran pared en el fondo, que golpean al oído furiosamente, y entra ahi la parte improvisada de un teclado, y extraños sonidos que realmente no puedo describir, pero en el fondo se escuchan sonidos del bosque y algunos susurros mientras un sonido metálico es sostenido, de apoco cambia esto a un oscuro piano que deja caer sus notas mientras un puerco grita, es esta excelente combinación de elementos sonoros los que le dan el mayor credito al trabajo de sergy, su creatividad y experimentación en los ambientes oscuros, que realmente mueven e impactan al espectador, y mas adelante emula un órgano y una orquesta en delirantes notas mientras una hermosa voz femenina hace su aparición y sergy grita cada ves mas furiosamente en la cumbre armónica del track de ahi va en disenso mientras sonidos se sobreponen y se diluyen, para llegar a un glorioso y doloroso final cabe decir que todas las voces son extremadamente crudas y reales, en todas se siente una profunda desesperación y maldad.
www.myspace.com/deathrowblackmetal
www.myspace.com/molochukr
"The Kether crow (produced 2008)"- This CD was limited to 160 copies of which my #16 finally came. The minute you see the album you can tell it has a good atmosphere from the colors and from the images and from the desolate countrysides, dark forests. On the inside of a photo there is a river with the images of Thorns and of Sergiy.
Nigredo 1
This is a dark track with a melancholy melody and a deep feeling conveyed to us, and immense abyss with a dark ambiance and a repetitive violin that gives a touch of horror to the track.
Nigredo 2
This is the second piece of "Deathrow" that continues the gloominess of the preceeding piece. But, this time it has a different air, with a rythem similiar to an antiquated festival songs that they play with a clavichord.
ll buio MMWlll
This is an entirely sinister track – dark, sugglish, with a high pitched violins and a low sound in the backgtound. This is what makes up the total composition of the track.
Vergessene Weishet meiner grauen Gefuhle
I have to say it is Moloch who carries the "split", with his only track in Molch's work, as usual. It is a large experimental track, beginning with gloomy howls, and screams that soon dominate the listener and the heavy background violins. Soon after this are some horrendous and serious blows like a brick wall in the background which strike the ear furiously. Here comes the imprvised keyboard and a strange sound that i really can't describe. In the background you hear forest sounds and some whispers while the metal sound is sustained. This sound changes to a dark piano that lowers its notes while a pig screams. This is an excellent combination of the sound elements that gives major credit to Sergy's work. His creativity and experimentation with dark atmoshperes really move and impact the spectator. Later he emulates an organ and an orchestra in delirious notes while a beautiful voice makes an appearance. Sergy screams more furiously in harmony with this voice in the rhymical top of the track while there are overlapping, clashing sounds. They dissolve to arrive at a glorious and sorrowful end. You can say that all the voices are extremely raw and real. In all you feel a deep evil despair.
CD-r Lmt.30 SALUTE Rec.(Swe)
Tape Lmt.100 TOUR DE GARDE Rec.(Can)
CD-r Lmt.160 THE KETHER ROWN Prod.(Rus)
Deathrow (Ita)
1.    Nigredo I    11:42
2.    Nigredo II    07:07
3.    Il buio MMVlll    08:17
Moloch (Ukr)
4.    Vergessene Weisheit meiner grauen Gefuhle (alte version)    27:16
Total     54:22